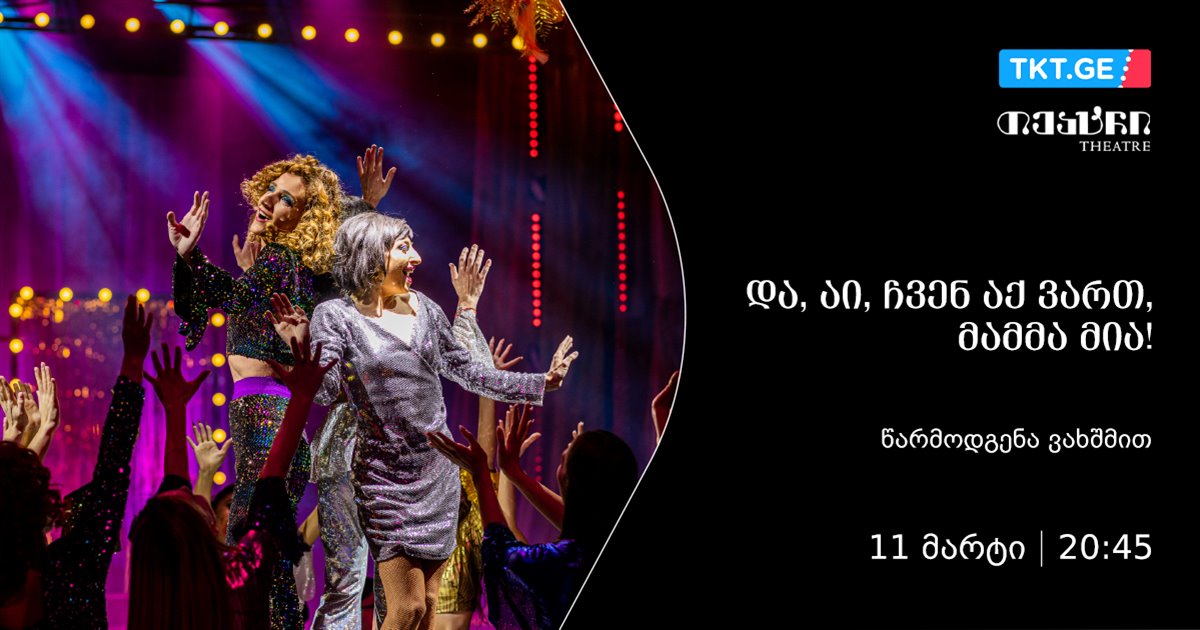 And Here we are - Mamma Mia!
Description
And here we are - Mamma Mia!
What you have not seen nor heard!
Something that you will definitely remember and never forget!
The Show you will talk about for a long time!
On March 11, you will see the story about a woman and three men, set on a Pantelleria, island of Italy, which will sometimes make you laugh and sometimes bring tears to your eyes. Unbelievable situations and wedding preparations of a young couple.

And we are here! -Mamma Mia! –Based on musical motifs, the original Georgian version belongs to "Theatre".
Doors open: 20:00
Show and Dinner: 20:45
*Ticket price includes attending the show with dinner


Participants:
♦ Maria - Ana Kurtubadze
♦ Elena - Elene Tavartkiladze
♦ Roy - Andria Gvelesiani
♦ Charlie - Gigi Dedalamazishvili
♦ Bobby - Jeji Skhirtladze
♦ Kelly - Ruska Makashvili
♦ Judy - Mariam Chukhrukidze
♦ Elia - Sandro Kakhetelidze
♦ Mia - Ana Togoshvili
♦ Alice – Anna Gvantseladze
♦ Peppe - Nikusha Chkadua
♦ Freddy - Lasha Morchiladze
♦ Padre - Luka Khechumashvili
♦Actors also participate: Andria Zakaraia, Lali Gogidze, Irakli Siqturashvili, Salome Tatarashvili
♦ Corps de ballet of the "Theatre"
Creative team:

Executive Director: Zaal Chikobava
Music director: Tamuna Archvadze
Choreography: Giorgi Toriashvili
Scenography: Anna Ninua
Costume designer: Lasha Jokhadze
Screenplay: Tea Kipshidze
Lyrics of the songs: Irina Sanikidze
Assistant director: Tinatin Tsuladze
Musical arrangement: Amiran Diasamidze
Studio sound designer: Nino Tsitlauri
Brand Chef: Alex Natadze
Bear in mind!!!
• Late guests will not be able to enter the hall until the end of the act.
• Late guests will not be able to request a dish that has already been served.
• You choose the dinner menu in advance while purchasing the ticket. you can not order food on the venue, you can only order drinks, Snack board, and Georgian sweets.
• You must turn off your phone during the show.
• You are not allowed to walk or make noises during the show.
• Intoxicated persons will not be admitted to the show.
• Please note that the purchased ticket cannot be returned/exchanged.
Terms & Conditions
კონფიდენციალობის პოლიტიკა
Copyright © 2015-2023 Online Tickets LLC. All Rights Reserved.