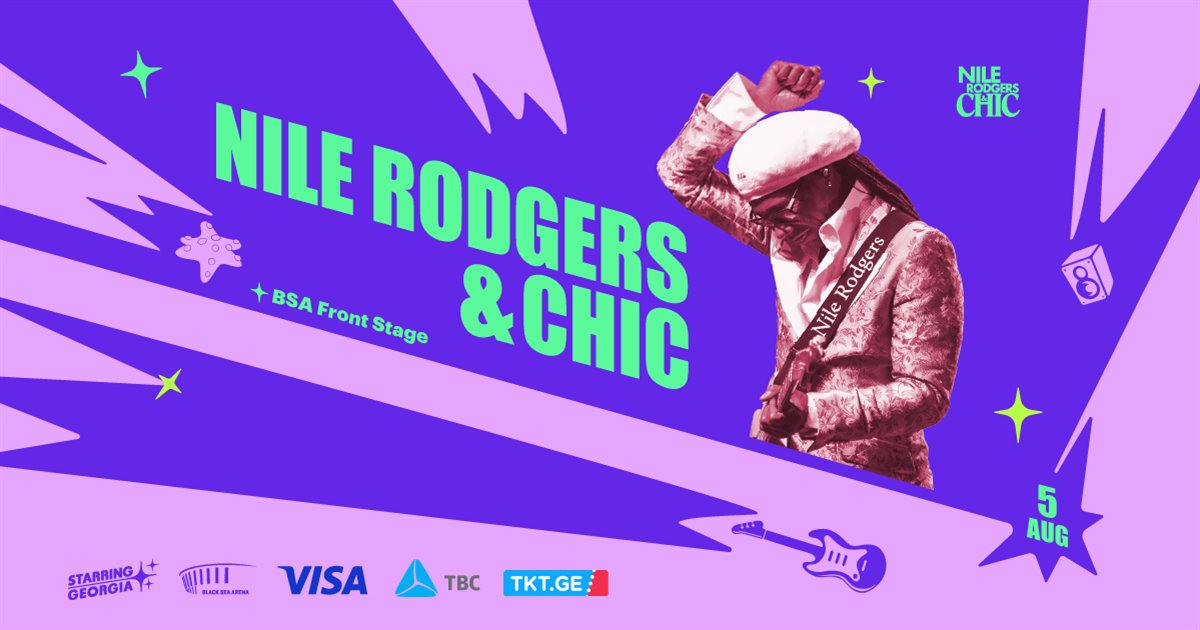 Nile Rodgers & Chic
Description
On August 5, as part of Starring Georgia, the Front Stage of the Black Sea Arena will host the American musician and producer Nile Rodgers and his band Chic.
4 Grammy award winner, Nile Rodgers is a pioneer of the disco movement and one of the most influential music producers who changed the trajectory of pop music forever. Together with the 70s-based band Chic, he produced such iconic songs as "Le Freak", "I Want Your Love" and many others, which in fact laid the foundation for the revival of disco culture.
It's also worth noting that Nile Rodgers' work as a producer and mentor, resulted in hit songs for other artists, such as - Diana Ross' "Upside Down", David Bowie's "Let's Dance", Madonna's "Like a Virgin" and Daft Punk's "Get Lucky". The list goes on and on and spans decades and genres, once again demonstrating the American musician's ability to create valuable music for all generations.
Together with the band Chic, Nile Rodgers will perform favorite hits for all generations and remind the guests at Front Stage once again how magical and powerful the music is.
Event starts: 21:00 PM
Gates Open: 19:00 PM
Starring Georgia is a 2-year campaign, within the framework of which Georgia will become the host of the entire constellation. During campaign our country will be visited by artists whose music unites people of different generations and music lovers. These artists include Imagine Dragons, The Killers, FKJ, Damian Lazarus, and All Day I Dream.
Terms & Conditions
კონფიდენციალობის პოლიტიკა
Copyright © 2015-2023 Online Tickets LLC. All Rights Reserved.