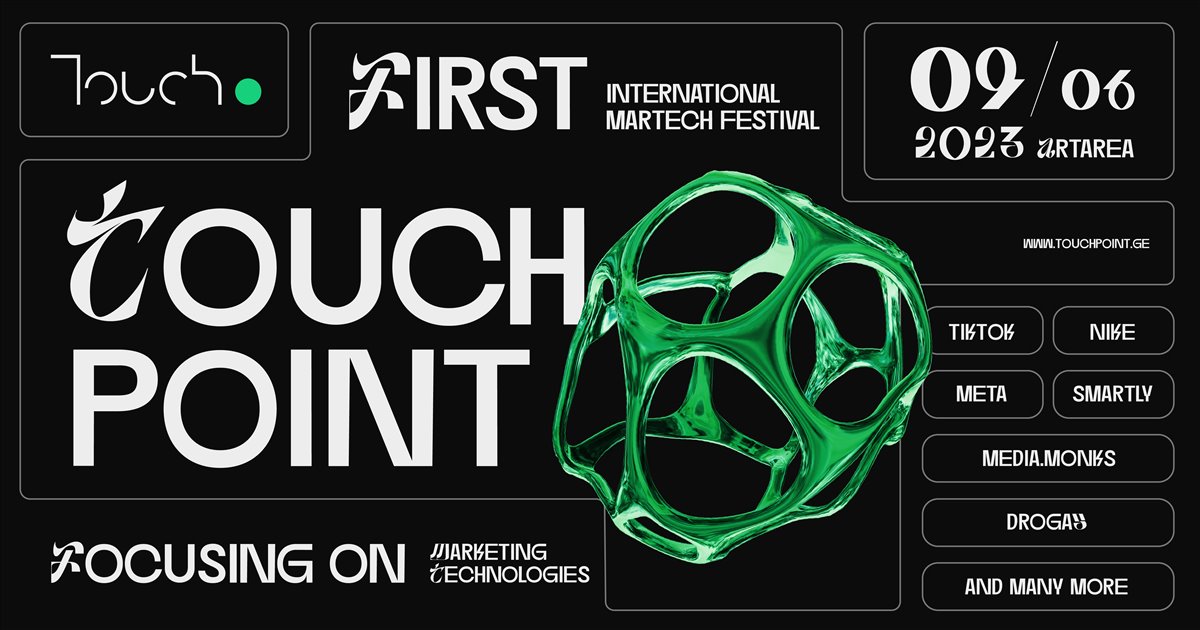 Touch.Point
Description
Touch Platform, which has been holding an international tech conference TOUCH SUMMIT in Georgia since 2016, this year, for the first time in Georgia, it's holding a MarTech festival, Touch.Point
The main goal of the festival is to raise awareness of marketing technologies in the local market and to promote effective implementation of existing technological solutions in practice.
Touch.Point is intended for professionals working in marketing and technology (such as: head of marketing departments, marketing managers, product managers, brand managers social media managers, property managers, creative agency account managers, strategic marketing specialists, strategists, product engineers, tech entrepreneurs and others)
With its traditionally exceptionally interesting line-up, the festival promises the audience a busy day full of interesting interactions, inspiration and discussions.
1000+ attendees from 10+ countries will gather at this event to share the experience and dive into an extraordinary journey.
The event will have a main stage for 25 international and local speakers.
The program will be packed with very interesting presentations, panel discussions, workshops, creatives, networking and evening parties.
The main topics of the festival are:
Data-based marketing
Marketing automation tools
Brand and culture
Consumer behavior
Digital Content and Storytelling
Marketing in the Metaverse
All attendees will have the opportunity to participate in an "AI Creathon" and try their hand at solving simple briefs using AI. You can expect interesting awards from the partners of the event for the most outstanding works.
Touch.Point partners are: Adjaragroup, Dblock, Kettari Foundation, Cellfy, Alta OK, Evido, Noxtton, BRID, Lowenbrau, Borjomi, and many more tba.
Media Partners: Entrepreneur.ge, On.ge, Nexton.ge, Marketer.ge
18+
I Basket:
Student Pass - 60 GEL
Full Pass - 150 GEL
Gang Pass - 550 GEL
II Basket:
Student Pass - 60 GEL
Full Pass - 200 GEL
Gang Pass - 650 GEL
III Basket:
Student Pass - 60 GEL
Full Pass - 250 GEL
Gang Pass - 750 GEL