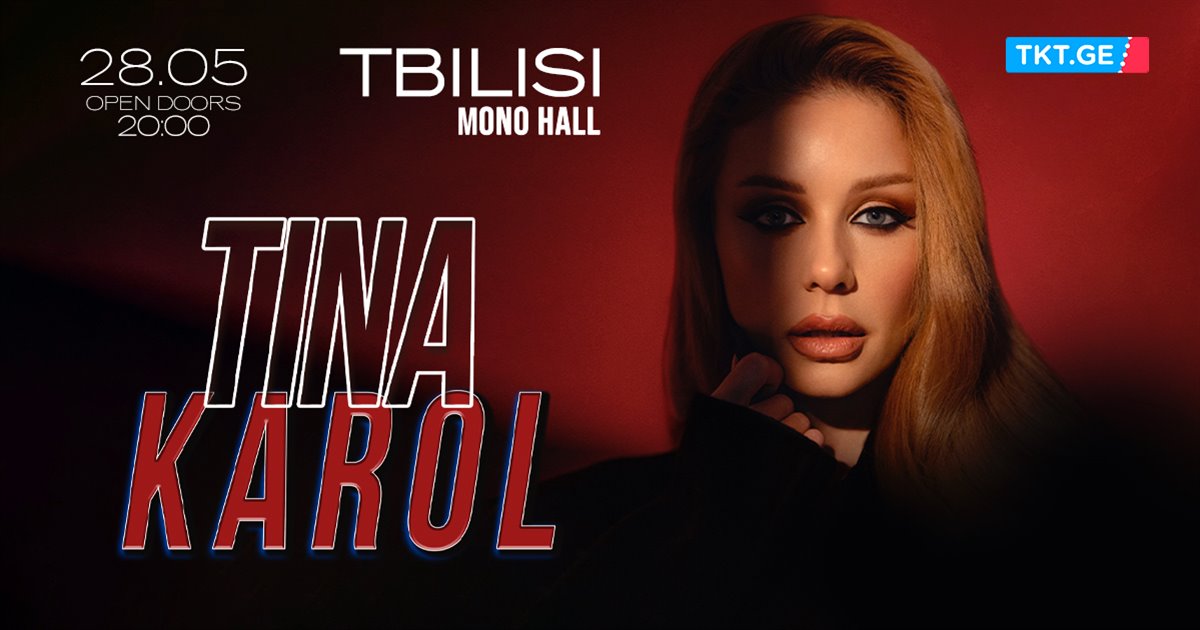 Tina Karol - Mono Hall Tbilisi
Description
On May 28 - Mono Hall presents one of the most popular Ukrainian singer – Pop Star – Tina Karol concert in Tbilisi.
Tetiana Liberman – with the stage name Tina Karol - is a Ukrainian singer, actress, and television presenter.She's graceful manner of performance has been attracting listeners' love and attention for about 18 years.
Tina Karol became famous with her triumph In 2006, after winning at the casting for the Eurovision Song Contest 2006, with the song "I Am Your Queen" and therefore represented Ukraine at the event with a revised version of the song entitled "Show Me Your Love", after which a significant rise began in the singer's career. On 16 January 2009, President of Ukraine Viktor Yushchenko awarded Karol the title of Honored Artist of Ukraine. In October 2009 she was ranked 92nd in a Top 100 Most Successful Women in Ukraine compiled by experts for the Ukrainian magazine Focus.
In the fall of 2012, she served as a contestant coach on Ukrainian reality talent show The Voice Kids, and in the spring of 2013 she went on the 3rd season of The Voice of Ukraine as a coach.
March 26, 2014, Tina won the Yuna Music Award in the nomination Best Singer Of The Year. In 2015, she also won the M1 Music Awards in the category Best Singer.
Tina Karol is actively involved in the Ukraine's social and political activities. In 2014, she opened a charity The Tina Karol Foundation «The Pole of Attraction» to help cancer patients. Karol also became the soloist of the Ensemble of Song and Dance of the Ukrainian Armed Forces as well as a television personality.
------
20:00 - DJ
22:00 - Tina Karol
00:00 - DJ
------
♀♂ Age Control 16+
📲 For Table Reservation Call:: 577 777 949
------
◾ Standard tickets:
▪ I Basket - 70 GEL
▪ II Basket - 90 GEL
▪ III Basket - 110 GEL
------
🆒 VIP tickets for more comfort - 130 GEL [Limited tickets]
▪ Separate entrance
▪ Comfort space
▪ Separate toilet
▪ Separate bar
Terms & Conditions
კონფიდენციალობის პოლიტიკა
Copyright © 2015-2023 Online Tickets LLC. All Rights Reserved.