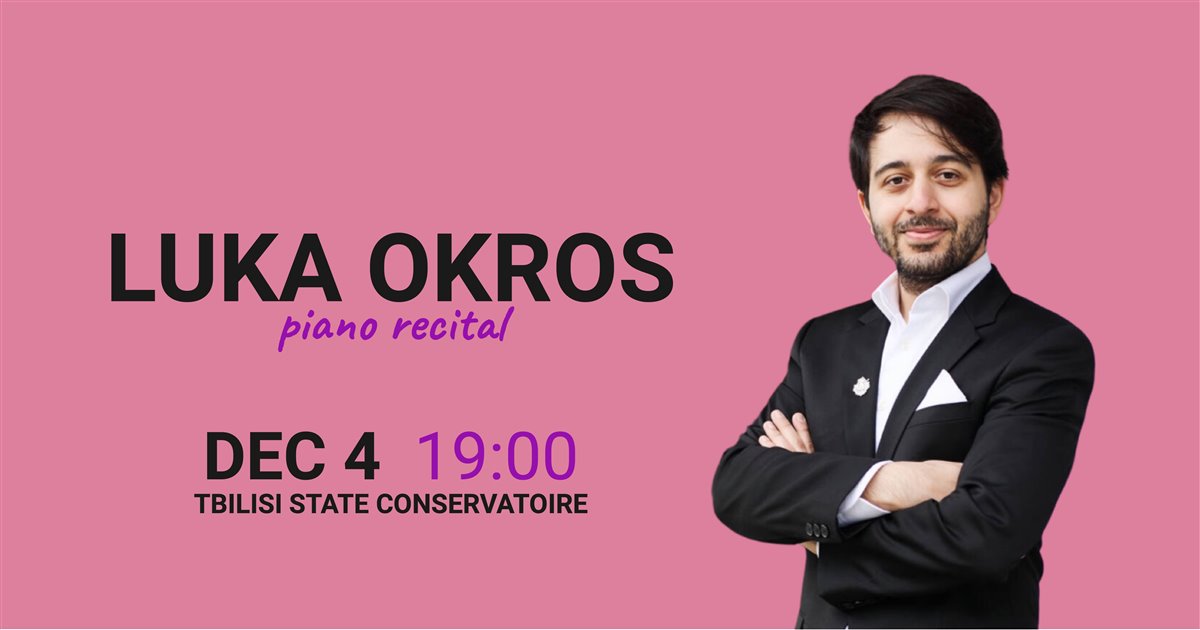 Pianist Luka Okros: Beethoven, Chopin and Rachmaninov
Description
BEETHOVEN
Sonata Op.27 No.2 (Moonlight) in C sharp minor
Sonata No. 8 Op. 13 (Pathetique) in C minor
INTERMISSION
CHOPIN
Nocturne op.9 no.2 in E flat major
Nocturne op.55 no.1 in F minor
Nocturne op.15 no.1 in F major
Nocturne op. posth. in C sharp minor
RACHMANINOV
Sonata no. 2 op.36 in B flat minor (1931 version)
Pianist Luka Okros: Beethoven, Chopin and Rachmaninov
Hear a selection of lyrical works played by London-based Georgian pianist Luka Okros, who returns to the Grand Hall of Tbilisi Conservatoire with the solo recital. He will enchant you with an exquisite program. Fantasy and imagination permeate this evening's musical selection, an ideal showcase for his remarkable musicality.
Okros has won eight first prizes in top international piano competitions and performed in 44 counties.
Described by critics as "Intense, strong and natural, with an impressive creativity", Luka Okros has gone on to earn an international reputation for the passion and excitement he brings to his live performances.
Highlights of the 2022/2023 season include performances in Austria, Columbia, Finland, France, Iceland, Georgia, Germany, Hong Kong, Hungary, Luxembourg, the Netherlands, Switzerland, and the United Kingdom.
In addition to his career as a concert pianist, Luka works on creating an album of his compositions. One of the pieces was filmed and premiered by Het Concertgebouw's Sessions.
Since 2021 Luka has been appointed as the Assistant Artistic Director at Bechstein Hall – London's new concert venue opening in 2023 on 22 Wigmore Street.
"An impressive display of virtuosic pianism"
The Guardian, British Daily Newspaper
"Now here is a magnificent pianist you have to take account of in the future"
Classica, French Classical Music Magazine
"Okros has the extra something, the exclusive element that runs away from any definition"
Israel Hayom, Israeli Daily Newspaper